How to Design a Modern Wedding Bouquet?
Weddings are a celebration of love, and every detail, from the venue to the bridal bouquet, plays a crucial role in making the day unforgettable. The bridal bouquet, in particular, is not just a collection of flowers; it's a reflection of the bride's personality, style, and the theme of the wedding. With modern weddings leaning towards personalized experiences, designing a contemporary bouquet requires a blend of tradition and innovation. Here's how you can design a modern wedding bouquet inspired by the latest trends.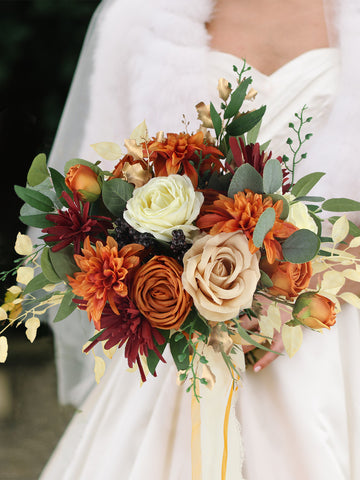 1. Embrace Warm Tones: Sunset Terracotta
The warmth of love is perfectly encapsulated in the Sunset Terracotta collection. Burnt orange bridal bouquets are the perfect touch for autumn, bohemian, rustic, outdoor, and vintage weddings. The earthy tones paired with a mix of textures create a bouquet that's both modern and timeless.

2. Dive into Deep Blues: Navy & Sapphire Blue
Modern weddings are all about sophistication, and what better way to achieve that than with the captivating beauty of Navy & Sapphire Blue? This color palette offers a wide range of floral arrangements, from deep blue roses to sapphire-hued lilies, making it versatile for various wedding themes.


3. Personalize with Accessories
Modern bouquets are not just about flowers. Incorporate elements like ribbons, lace, or even heirloom jewelry to add a personal touch.Here are some accessories that can be incorporated into a wedding bouquet:

Ribbons and Laces: These are classic additions to any bouquet. Depending on the wedding theme, you can choose satin, velvet, or lace ribbons. They can be tied around the stems, used to create bows, or even intertwined among the flowers for a whimsical touch.

Brooches and Pins: Vintage or heirloom brooches can be pinned to the bouquet for a touch of elegance and nostalgia. They not only add sparkle but also personal significance, especially if they're family heirlooms.

Pearls and Beads: Draping strings of pearls or beads around the bouquet or weaving them between flowers can add a touch of sophistication. They catch the light beautifully and can complement both classic and contemporary wedding themes.

Charms and Lockets: Personalized charms or lockets with photos of loved ones can be attached to the bouquet. This is a touching way to have deceased family members or friends close on the wedding day.

Monograms: Monogrammed pendants or tags with the couple's initials can be tied to the bouquet, adding a personalized touch.

Feathers: For a boho or vintage-themed wedding, feathers can be a unique addition. They add texture and a touch of whimsy to the bouquet.

Crystal Drops: For a winter or glamorous-themed wedding, hanging crystal drops from the bouquet can make it look like it's adorned with icicles or dewdrops.

Greenery and Foliage: While not exactly an accessory, adding unique greenery or foliage like eucalyptus, ferns, or even succulents can change the entire look and feel of a bouquet.

Butterflies or Birds: Small decorative butterflies or birds can be attached to the bouquet for a fairytale or garden-themed wedding.

Rustic Elements: For rustic or barn weddings, consider adding elements like burlap wraps, twine, or even small wooden charms.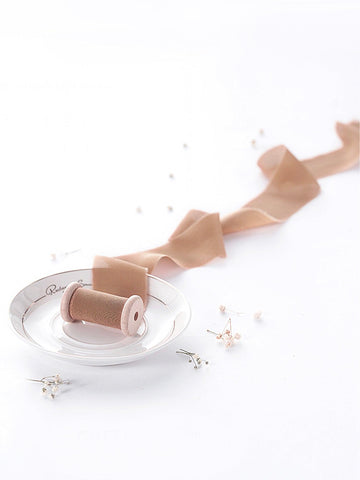 4. Think Beyond Traditional Shapes
Modern bouquets break the mold of traditional round or cascade shapes. Experiment with asymmetrical designs, loose arrangements, or even a bouquet that tells a story with different flowers representing significant moments in your relationship.

Designing a modern wedding bouquet is all about blending personal preferences with the latest trends. With the right inspiration and a touch of creativity, you can create a bouquet that's as unique as your love story.
---