2023 new 5 tips for making a rustic table centerpiece flowers for your big day!
If you're considering table centerpiece bouquets in burnt orange color for your wedding or special event, here are some recommendations on how to make them even more stunning:
    1. Mix and match: Burnt orange centerpiece bouquet looks great when paired with other warm colors, such as burgundy, mustard yellow, and olive green. Consider incorporating these colors into your centerpiece bouquet to add depth and dimension.
    2. Add texture: Texture is key when it comes to creating a beautiful and interesting centerpiece bouquet. Consider incorporating elements like dried branches, wheat stalks, or pine cones to add texture and interest to your arrangement.

    3. Think beyond flowers: While flowers are a classic choice for centerpiece bouquets, don't be afraid to think outside the box. Consider incorporating non-floral elements like feathers, ribbons, or crystals to add a unique touch to your arrangement.
    4. Play with height: Varying the height of your centerpiece bouquets can create an interesting and dynamic look on your table. Consider using taller vases or incorporating elevated elements like candlesticks to add height and visual interest.
    5. Keep it cohesive: While it's important to add interest and unique elements to your centerpiece bouquet, it's also important to keep the overall look cohesive. Consider using a consistent color palette or incorporating similar elements throughout your table decor to create a cohesive and polished look.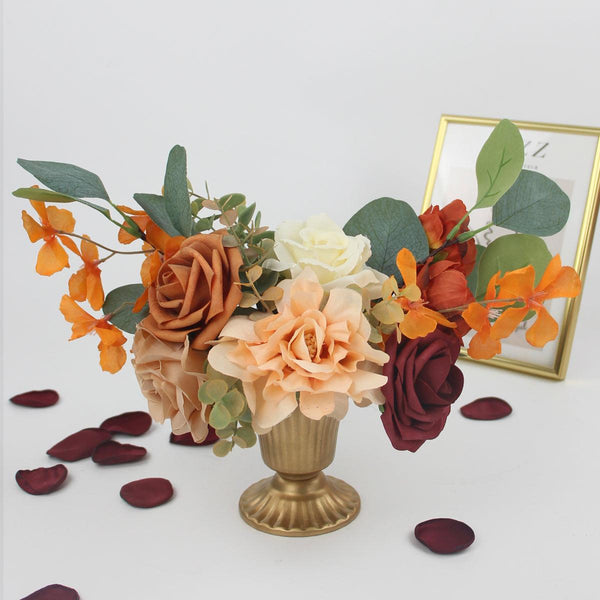 Rustic burnt orange centerpiece bouquets are a beautiful and unique choice that can add warmth, texture, and personality to any event. By incorporating unique elements, playing with height, and keeping the overall look cohesive, you can create a stunning and memorable centerpiece for your wedding or special event.
---