How to customize artificial wedding flowers for just 900USD?
As a bride-to-be, I was determined to make my wedding day as special and unique as possible, without breaking the bank. One of the ways I decided to do this was by partnering with
Rinlong
, an online floral marketplace, to customize my
wedding flowers
to fit my personal style and budget. In this article, I'll share how Rinlong helped me achieve my dream wedding florals for just 900USD.
Firstly, I browsed through Rinlong's extensive collection of fresh and artificial flowers, as well as their pre-made floral arrangements. I was amazed by the variety and quality of their offerings, and was able to easily filter by color, flower type, and price range to find exactly what I was looking for.
After selecting my favorite flowers and arrangements, I reached out to Rinlong's customer service team to discuss my vision for my wedding flowers. They were incredibly helpful and responsive, and provided me with personalized recommendations based on my preferences and budget.
With their guidance, I was able to create a customized package that included
bouquets for myself and my bridesmaids, boutonnieres for the groom and groomsmen, centerpieces for the tables, and ceremony decor
. I was even able to add in a few extra touches, like a flower crown for my flower girl and petals for the aisle.
Throughout the planning process, Rinlong kept me updated on the status of my order and provided me with detailed instructions on how to care for and assemble my flowers. When my order arrived, everything was carefully packaged and labeled, making it easy to organize and assemble everything.
On the day of my wedding, I was thrilled with how everything turned out. The flowers were looked real, beautiful, and perfectly matched my color scheme and aesthetic. My bridesmaids and I were able to easily assemble our bouquets and the centerpieces, and the ceremony decor looked stunning.
In total, I spent just under 900USD on my
customized wedding flowers with Rinlong
. This may seem like a lot, but when you consider the convenience, quality, and personalized service that Rinlong provided, I feel like I got a great deal.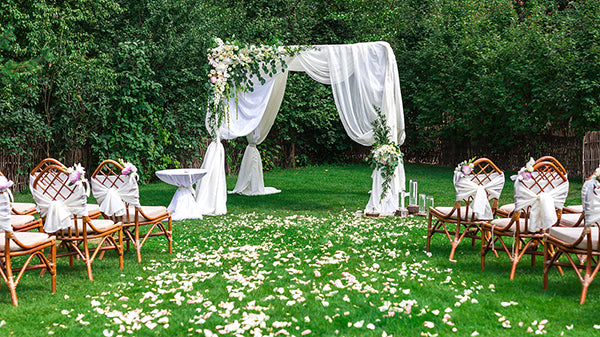 Overall, I'm thrilled with my decision to partner with Rinlong for my wedding flowers. They made the process easy and enjoyable, and helped me create a beautiful and memorable day. If you're planning a wedding and want to save money without sacrificing quality or convenience, I would definitely recommend checking out Rinlong.
---